I have been fortunate to be asked back to Mooring Dental's annual Santa for a Cause event since its inception in 2014. Every year since, Mooring Dental hosts this event for their clients, friends, & families.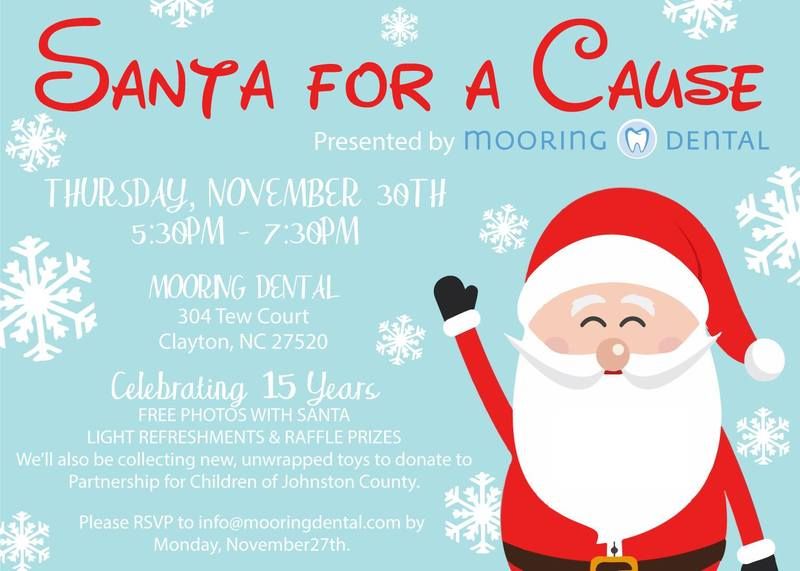 The office had refreshments and door prizes offered as well as Santa for the kids. The office also collects new, unwrapped toys to donate to the Partnership for Children of Johnston County. 
I was set up with Santa to take portraits as well as the children's interactions with him. Everyone got a few minutes with Santa while I was able to snap away. 
Kids and families alike seem to really enjoy the event. It's doubly wonderful since Mooring Dental also collects toys for families in need.
I thoroughly enjoy getting to interact with the families that come out annually as well as new families and faces (I've been able to pick out familiar faces). There just something magical about Santa and watching children's faces light up when they interact with him. It really is both heartwarming and fun. 
Below you will find a sampling of the fun and excitement that was had with Santa that night. If you were a participant, the gallery of images is ready for download. 
Merry Christmas & Happy Everything!
Disclaimer: 
If you were a participant, these photos may look slightly different from the photos that were loaded into the gallery as they were cropped closer than the images in the gallery. The images in the gallery were not cropped as close to allow different print sizes for printing (so they could be cropped in and have space for different print sizes).